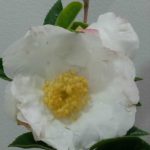 For a hedge which is reliable in colour and grows tidily a camellia sasanqua hedge is hard to look past. They have the added bonus that they flower reliably in autumn to winter giving colour to a garden when your summer flowering plants have finished their show.
A Camellia sasanqua hedge will be available in a variety of heights and shades of green with many different flower colours white, pinks through to reds, as singles and doubles
Camellia sasanqua Setsugekka is often used as a hedging camellia in New Zealand gardens. In late winter to early spring it displays single white flowers. It is a camellia with an upright growth habit so is a very useful plant for boundary hedges or screening.

Camellia sasanqua Early Pearly can be used as a hedging camellia in New Zealand gardens.
In autumn it produces small double white flowers edged with a touch of soft pink in autumn. Upright growth to 2m tall and 1.5m wide if not pruned.

Camellia Waterlily is a lovely reliable camellia with small to medium bright pink formal double flowers resembling a waterlily. Has late winter to spring flowering. Strong upright growth to about 2m x 1.5m. Is not a sasanqua type but is used as a hedge in New Zealand.
Click to view current availability of camellia hedging varieties.